Similar to what happened in Ukraine, Kazakhstan was covered by the global rebranding under Naspers Co. owning OLX umbrella brand. Сonsequently, they needed to tell users about the new brand. However, in contrast to Ukraine, Slando was little-known in Kazakhstan when the rebranding campaign rolled out.
Grandpa's anniversary
2014
We developed a comprehensive ad campaign, including TV, OOH, radio and, of course, digital.
Help the granny and twins, pleeease!
2014
Electronics, clothes, especially for kids, and furniture are the most popular website categories. That made our task to promote the whole For Sale category and boost the number of application downloads. We came up with two simple stories, one about grandmother, the other about twins. Due to a user-friendly mobile application, sought-after items they wanted to sell found new owners in a trice.
Buy a smartphone for boys, and a new outfit for girls. Spend the change on a car!
2015
OLX website is on the front burner 24 hours per day, all year round. We were to promote its key categories in a consistent manner also astonishing users and getting them interested. All over again, we delivered basic OLX points, namely, "from people — to people", "free website", and "in your city".
Our level of ambitions with FEDORIV fitted together. It's important for us to make something outstanding.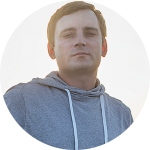 Sergey Gapochenko
Director of olx.ua, olx.kz, olx.by и olx.uz
2015
The Kazakhs are warm-hearted and kind people. Selling something needless is not the most important mission for them. But realizing their needless possessions are needed to someone else does matter! In the video, we have shown a handful of common people who are grateful to those who posted their offers for sale at OLX. This means they helped their fellow citizens buy something of interest at a beneficial price. Do you sell at OLX? If you do, we say rakhmet! – thank you!
2016
What is Kazakh word for "Thank you, OLX!"? Inspired by a successful testimonial campaign named Thank You!, OLX Kazakhstan keeps on the gratitude theme. Common people speak up their stories of how they have bought, sold or found something on OLX, and say "Thank you" for thousands of unique opportunities. This time, FEDORIV has moved beyond the traditional testimonial format, adding a genuine film-like dramatic effect. The first-person narrations were mixed with flashbacks to reveal the character of each speaker. And vivid emotions highlighted how OLX had helped in each situation. Everything was sincere and cozy. Thank you, OLX!
2016
This is where mother keeps a good table. This is where you are always welcome. This is where you hurry from work to. As part of our autumn campaign, we decided to ask the Kazakhstanis what home means to them and their warm and straightforward answers made us want to go home.